If you are a Mac user and your job requires you to take lots of screenshots and share them on the web, you are in for a frustrating time if you are not using the correct software. That's especially true if your screen captures are going to be used in WordPress.
Thankfully, there are a host of screen capture tools that have been built with this problem in mind, with some offering advanced functionality and powerful editing tools. Regardless of which of the following apps you use, all should render adding screenshots to your WordPress posts a breeze.
Note: In all each of these cases you will be uploading a single image at a time to your WordPress site. If you are creating how-to articles in WordPress then you may want to check out our Clarify application for Mac. It will allow you easily capture multiple screenshots, annotate them, author the document and publish it to your WordPress blog.
Grab (free)
Pre-installed on every OS X system, this handy utility allows you to take a picture of all or part of your screen through either the marquee, whole window, whole screen, or timed screen capture selection options. And it is very simple to use, if not entirely intuitive when used with WordPress. Simply open Grab in the Applications folder and choose a screen capture command from the self-explanatory options mentioned above (timed screen lets you start a timer and activate part of the screen before taking the snap) to capture your image. A window with a preview of your screen capture will then pop up. After saving the desired image, to use it in WordPress you will have to select it from your computer through the Add an Image button in the CMS. Simple to use, but with limited editing options, users searching for more functionality may want to consider other options.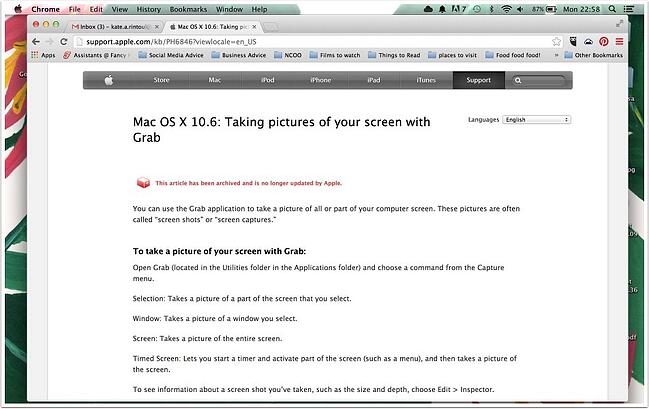 Evernote Skitch (free)
Formerly Plasq, this app allows the easy sharing and editing of screenshots online. Using either a new captured image or an existing one, Skitch allows you to write, draw, annotate or add shapes to your image, before saving it to your Evernote account so that it is available everywhere the Evernote platform is integrated.
So when creating WordPress posts, any Skitch screenshots saved in Evernote can be added with the click of a few buttons instead of having to upload them all to the WordPress Media Library first. Simply click on Copy Shared URL when you have finished annotating and editing a screenshot in Skitch, and then once in the WordPress CMS, click Insert from URL in the Add Media window and you'll be able to select your screenshot. One of the best things about this utility though is your ability to edit images without having to re-upload them each time. All you have to do is make changes to the image in Skitch, save, and your image is updated in your blog post too. Very handy!
Visit Skitch home page here: https://evernote.com/skitch/
CloudApp ($45/year for Pro subscription)
Those looking for even faster screenshot sharing capabilities and a screenshot view-count tracker all in one package will be well served by this app. Once installed, CloudApp integrates with OS X's global shortcut commands so that when you press the Command-Shift-4/3 shortcut, screenshots are instantly uploaded to the CloudApp server and a public URL is generated and copied to your clipboard. So when using the app with WordPress, all you need to do is paste this URL directly into your posts and CloudApp acts as a content delivery network to display your picture (or a download link to it if you so choose). What's neat is that each screen grab is also tracked by the software to give you a view count after it's shared online.
Visit CloudApp home page here: https://getcloudapp.com/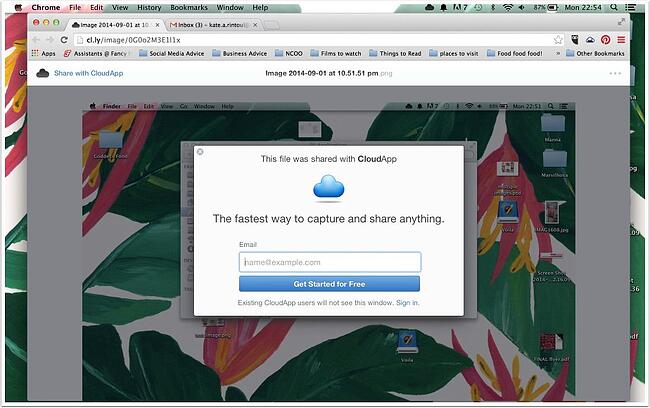 SnapnDrag ($9.99)
If even simple shortcut commands are too much of a drag, this little utility can circumvent that problem by allowing you to simply click and drag screenshots into other applications without the press of a single key. SnapnDrag lets you take either a selection, window or full screen capture and the option to save the file in either JPEG, PNG or TIFF file formats. Once set, click once for the desired screenshot and then drag where needed. The only downside is that the app isn't fully integrated into WordPress, meaning you'll have to drag captures into the CMS Media Library first instead of pulling them directly into the visual or text editor.
Visit SnapnDrag home page here: http://www.yellowmug.com/snapndrag/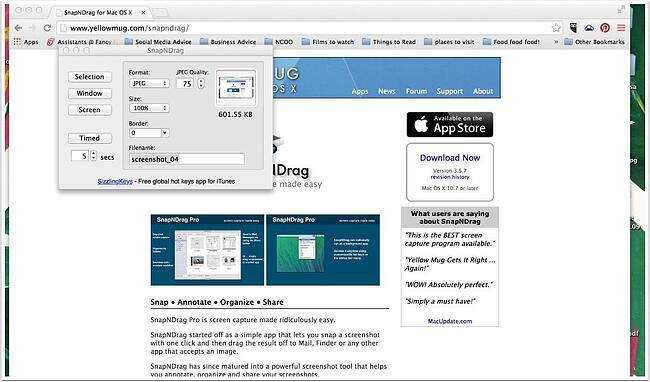 Voila ($14.99)
Perhaps the most powerful screen capturing ability is served up by this slick tool. As well as allowing you to capture just about any shape (such as circular, polygonal, triangular, or freehand-shaped objects), Voila also allows you to highlight specific areas of your captures, crop and splice images and add shapes, call-outs, overlays and other annotations.
The cost for this comprehensive suite of options is a lack of quick integration with WordPress. Once you have saved a capture, you can choose to either quickly share it to Evernote and then access it through the Media Library in the WordPress CMS, or manually upload it into the library to be used in your blog instead. But if you need Voila's powerful editing capabilities, a small hit to your productivity might just be a price worth paying.
Visit Voila home page here: http://www.globaldelight.com/voila/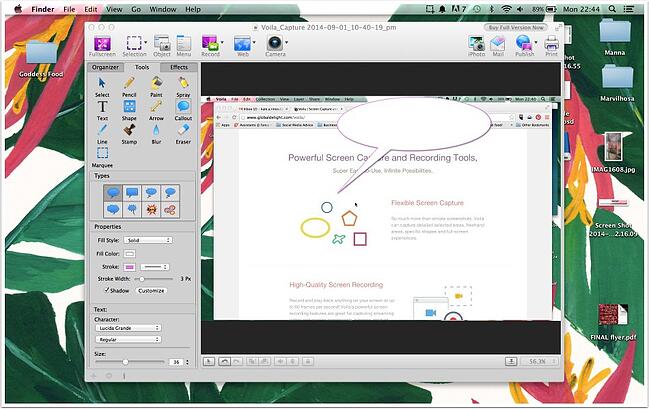 Clarify ($29.99)
Clarify, the app that we developed, takes a very different approach than the applications mentioned above. It is designed specifically for creating how-to blog posts.
Instead of working with individual screenshots Clarify allows you to capture multiple screenshots and turn them into a single document that can be published to your WordPress site. This can be a huge time saver when working with longer articles. To create a post in Clarify you:
Capture multiple images for your how-to articles (Clarify turns them into a document)
Add annotations your images
Add text to your Clarify document
Publish to your WordPress site
Clarify automatically uploads all of the images for you and publishes the article. If you ever need to update an image just edit your Clarify document and repost it. Clarify is available for Mac and Windows and a free 14-day trial is available.