After many months in beta, Clarify 2 is finally here!
We want to offer a big thanks to the many beta testers that have added such great feedback and have helped make Clarify 2 a better product.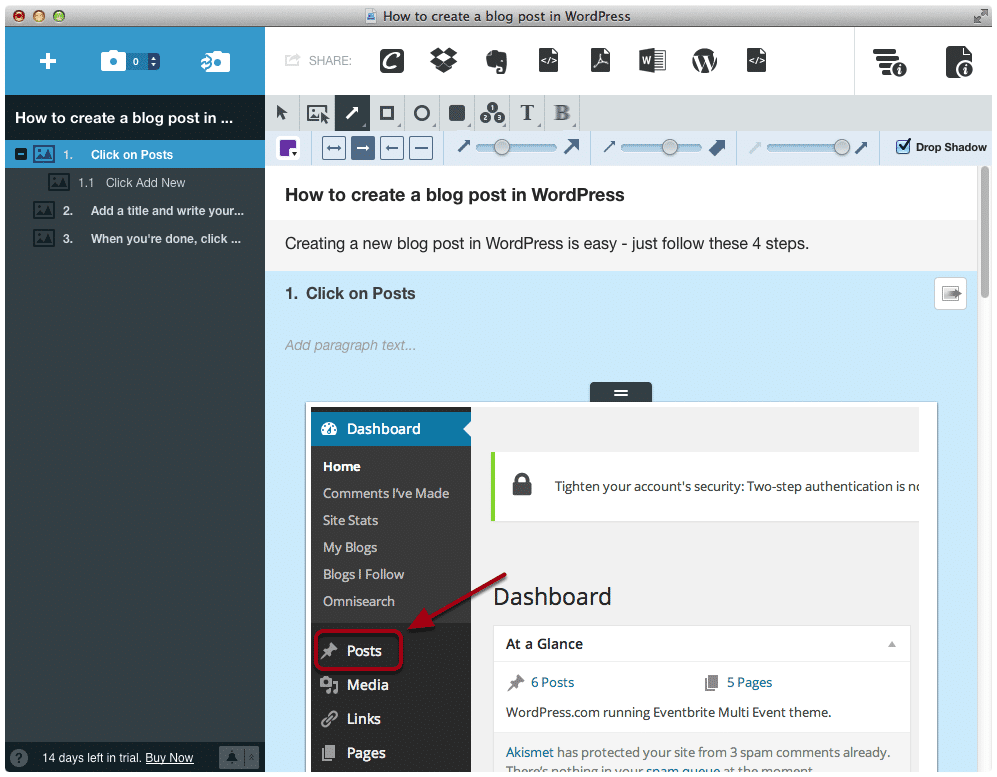 What's new in Clarify 2?
Our goals with Clarify 2 were to help further streamline the authoring process, add more customization options for PDFs and offer additional output options. Here is a quick recap of what is new in Clarify 2.
Better authoring
A lot of the authoring updates were based on customer feedback from Clarify 1. Here are some of the highlights:
Nested steps
Multiple images per step
Capturing of screenshots when Mac apps are in full screen mode
Annotation presets
Auto-numbering of steps
Inline code formatting
Nested lists
Set a start number for numbered lists (start with a different number than 1)
Annotation alignment tools
Embed HTML
Set anchors for steps
Oh, and by the way, Clarify 2 is retina ready.
Out of this list I think that nested lists and auto-numbering will make the biggest impact on Clarify users. The ability to auto-number steps in a Clarify document is a feature I use all of the time. It is a great way to do two things:
Make the steps in a process more clear
Make having a conversation via chat or email with a colleague about a Clarify document easier
With auto-numbered steps you can quickly reference where someone is stuck or where something is unclear. It is a great feature and I think you are going to love it.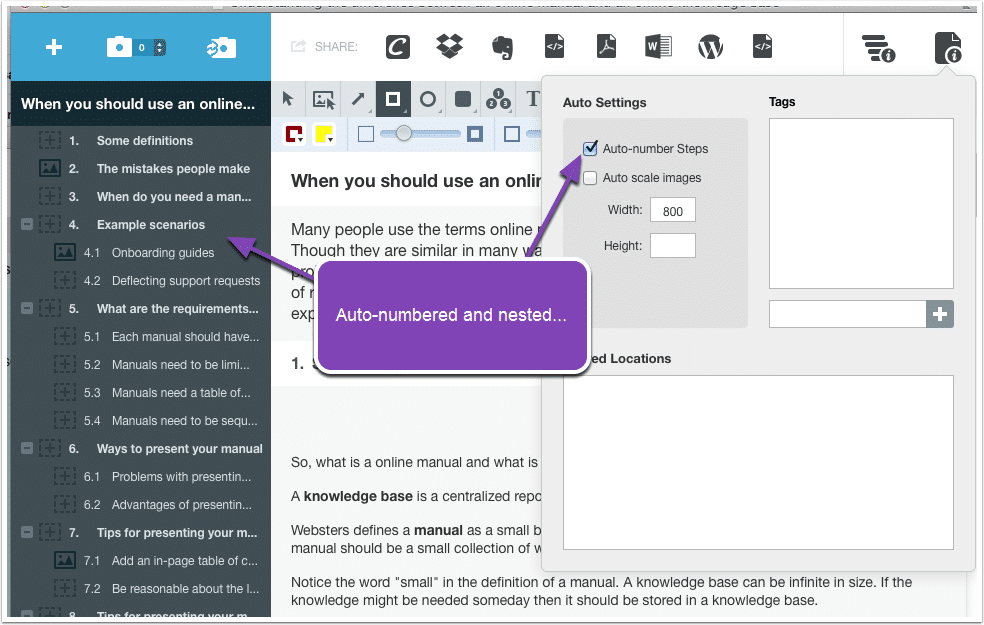 PDF Customizations
One of the biggest requests we have received is more customization options for PDF templates. In Clarify 2 we have a new PDF engine that allows you more control over PDF templates. You can use our basic template editor or get in and use CSS to create completely unique customizations.
We have also included additional PDF templates with this release.
More output options
Output options were a big part of this update. We have added:
WordPress
HTML (files to disk)
Word
Markdown
You can create your own HTML and Word templates as well.
We also added additional options to the current output formats. You can now use Dropbox for HTML clipboard templates. This means you can host your Clarify images in your Dropbox account and get HTML that you can paste into any web service.

How to get it
Clarify 2 is available from our online store for Mac and Windows and is available for Mac in the Mac app store.
You can download a demo here.
And you can read about our upgrade policy here.
Tell us what you think
Clarify 2 has involved a lot of work. We hope that is makes your work much easier. Tell us what you think. We would love to hear it.